Ear Candling is a painless way of relieving many ear complaints
Benefits of Ear Candling Therapy
Below is a small list of conditions that Ear Candles can benefit.
swimmer's ear
tinnitus
otitis or tropical ear
blocked ears following flying
over secretion of earwax
How does Ear Candling work?
Ear Candling is a natural way to clean out accumulated wax from the ears. The chimney effect inside the Ear Candle, combined with the vibration of the rising air column, promotes secretion in the frontal and paranasal sinuses. The heat and the vacuum draw out the wax and other materials from the ear canal into the base of the candle. This has an immediate subjective effect of regulating ear pressure.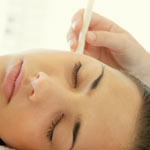 Ear Candles are custom designed from natural fibres and tapered to precise specifications. It is a painless, harmless and totally relaxing experience. It sounds like rice bubbles softly crackling in your ear. Recipients often describe a light sensation in the ear/head area.
Ear candling is completely safe for all ages.
We value open communication, so if we can help in any way to better your experience with us, please let your therapist know.