How does Bowen Therapy work?
A treatment consists of a series of gentle but precise mobilisations performed over the insertion or centre of muscles, tendons, ligaments and nerve pathways. These specific moves facilitate fascial or connective tissue release thereby enabling the body, through the autonomic nervous system (ANS), to begin rebalancing. Increased range of motion (ROM) and decreased pain often happen by the end of the initial treatment however, more often symptoms gradually improve over the following days as the body continues to rebalance.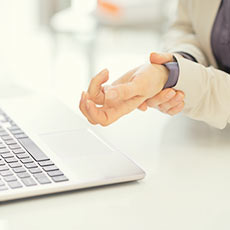 Research in the field of alternate treatments for Carpal Tunnel Syndrome has shown Bowen Therapy to be effective in enabling sufferers to resume normal duties when previously only light duties were possible.
In the sports arena Bowen Therapy is fast becoming popular as an adjunct to various training programs to enhance flexibility, agility , recovery times and overall sports performance.
I'm a big advocate of Bowen Therapy and have seen it help people recover from conditions that they were told 'they just had to live with'. Below is a small list of conditions that I know Bowen has benefited.
Colic and reflux in babies
Sciatica
Shoulder problems including frozen shoulder
Bed wetting in children
Hay fever
Knee problems
Jaw (TMJ) irregularities
Plantar fasciitis
Tennis elbow
Carpal tunnel syndrome
Infertility
Digestive problems
Fibromyalgia; and
Lower back pain.
Bowen does not claim to be 100% successful but it has demonstrated significant improvement in a variety conditions both acute and chronic.
The gentle techniques used make Bowen Therapy suitable for people of all ages, especially newborns and the elderly.
If you would like to know more you can visit the official Bowtech website at www.bowtech.com. This website has lots of easy to understand information and testimonials from recipients of Bowen. For more information on the benefits of Bowen and pricing see our Bowen Therapy page.