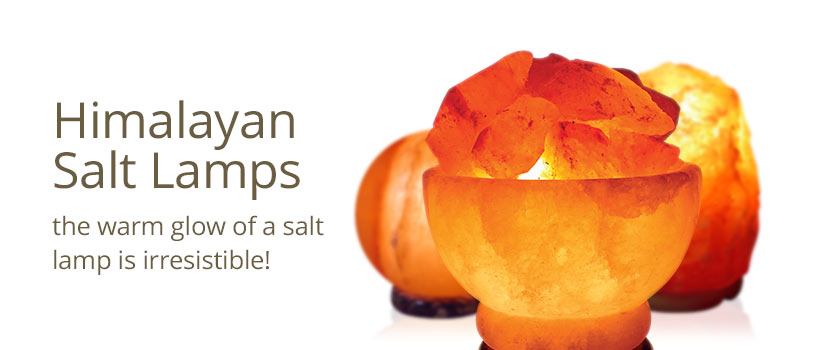 The warm glow of a Himalayan Salt Lamp is irresistable!
Add ambience to your home with beautiful, rich colours and create a warm, welcoming & relaxed environment.
Our Salt Lamps are carefully crafted by hand to retain the unique, beautiful natural shape of the rock. These lamps not only look stunning, but have enormous therapeutic benefits anywhere you would like the air quality to be improved.
Himalayan Salt Lamps naturally ionise the air by emitting 'Negative Ions' into the atmosphere which help to purifying the air. The lamp's hydroscopic properties help reduce airborne pollutants thus helping asthma and allergy sufferers.
Salt lamps are known to give relief from hay fever, sinus problems, bronchitis, allergies, asthma attacks and respiratory disorders. They are suitable for daily use near televisions and computers, around smokers, in offices, in therapy rooms to promote relaxation and healing. Basically anywhere there is a desire to restore or preserve the natural air quality.
All Salt Lamp shapes and sizes are available for direct collection in-store. We are open 9:00am-4:30pm Tue-Sat, call 07 5438 0688 to secure yours. Note there is No Shipping for our Salt Lamps due to weight.
Choose from a great range of natural and shaped Salt Lamps. A beautiful additional to any space.
Natural Salt Lamp
Mini ~ $29.95

Natural Salt Lamp
Small ~ $31.95

Natural Salt Lamp
Peewee ~ $27.95

Pyramid Salt Lamp
One Size~ $49.95

Sphere Salt Lamp
One Size ~ $49.95

Replacement Salt
Lamp Cord ~ $9.95

Replacement Salt
Lamp Bulb ~ $2.50
Salt lamps are very durable and will last you many years with the right care and maintenance.
Caring for your Salt Lamp
As salt does, your Himalayan Salt Lamp will attract moisture out of the air. This is all part of the ionizing process and there is nothing to worry about. If the lamp has not been turned on for some time you will find moisture on and/or around the lamp. To avoid this turn your lamp on as often as possible.
Cleaning – If you salt lamp becomes dusty or dirty you can gently wipe the lamp with a damp cloth. Do not wash with excess water as this can dissolve the lamp.
Placement – You can use your salt lamp in any room of the house so long as it is away from excess moisture (ie the bathroom or outdoor areas). They make an incredible night light and will assist sleeping patterns.
When to use – Since the ionizing effect of the lamp occurs when the salt is heated the more often you have your salt lamp on the better your atmosphere will be. However, when the weather is particularly humid or wet, it is best to keep the lamp on for as long as you can to help negate the appearance of moisture or water accumulating on/around the lamp.
When not in use – If your lamp is not going to be used for a couple of days it is recommended to cover it with a plastic bag to stop moisture being attracted to the salt. To store for longer periods of time it is best to wrap your salt lamp in glad wrap, place it inside a cardboard box and store in a cool dry place.
How do Himalayan Salt Lamps work?
At the beginning of the 21st century, we can hardly imagine living without most electric devices, they make it easier for us to work in the office, at home they even entertain us. However we do not realize that they are also a source of very harmful positive ions or so called electric smog.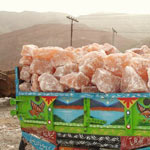 Scientific tests have revealed that the ratio of negative ions to positive ions should be between 1.02 to .98/cm3. In closed rooms where a few people work at the same time, the amount of negative ions may fall to as low as 200/cm3. Himalayan Salt Lamps are an affordable natural air ionizer.
In salt lamps the ionization effect is enhanced by heating the salt crystal with a bulb installed inside the lamp. As a result, the salt crystal lamp attracts water molecules from the air forming a Sodium Chloride (NaCl) and Water (H2O) solution. Sodium carries a positive ion while Chloride carries a negative ion. Hydrogen has a two part negative ion and Oxygen has a single positive ion. When added up you have two positive ions and three negative. After cancelling each other out, one lone negative ion is produced.
The releasing of negative ions into the air is a form of air cleaning, impacting on dust and bacteria as well as refreshing and oxygenating the air.
The uses for Himalayan Salt Lamps are quite varied. Asthma and allergy sufferers find them useful to promote clean air. Others use the lamps to offset environmental radiation from microwaves, televisions and computers.
Colour Therapist's believe the soft pinky glow of the lamp is calming to the nervous system and therefore may encourage a good night's sleep.