massage
health & beauty
professionals
When it comes to relaxing,
there is no better place.
tension and headaches?
REMEDIAL MASSAGE can be a lifetime ally to relieve pain
and tension, speed healing and increase energy and vitality
warming winter offers
the perfect way to
warm up this season
pamper packages
find the PERFECT PACKAGE to help
you feel relaxed and rejuvenated
A Perfect Blend massage, health and beauty clinics.
Providing you with a benchmark of excellence in quality remedial massage, skin care, waxing and authentic organic spa treatments. Located in both the heart of Bulcock Street, Caloundra and Mooloolaba Esplanade on the Sunshine Coast Qld.
Surrender yourself to the caring and experienced hands of our expertly trained therapists.
Caloundra
Shop 19. 50 Bulcock st. Caloundra
Ph 07 5438 0688
Mooloolaba
Shop 4. 2 Brisbane rd. Mooloolaba
Ph 07 5478 0748

Health Cover (HiCaps)
HICAPS is an electronic health claims and payments system which offers members of participating health funds, the convenience of automatic claims processing, on the spot in our shop.
No more queuing at health fund branches and filling in claim forms!
More Information
Our People
At A Perfect Blend our emphasis is on friendly, professional service, provided by caring professional people who love their work. With over 15 years in the business, we have serviced the local community and visitors alike, providing professional care for specific ailments, health, pure relaxation and de-stressing.
More Information
Shop Online
Our holistic approach to good health and wellbeing extends to the front of shop where we stock Organic Spa Skin Care Products, Aromatherapy Gifts, Certified Organic Soaps, Perfect Potion Essential Oils together with a wide range of Affirmation Cards and Books.
More Information
"A Perfect Blend was the fourth place I tried since moving to the Sunshine Coast - not only was the massage amazing, but they have HiCaps for on the spot health cover claims! I have not been anywhere else since. Absolutely fantastic!!"

− S. Lyell
"I have been to a perfect blend a few times, the service is second to none and the staff are all very welcoming, oh, and the massage I had was sooo fantastic I purchased 2 vouchers for friends while I was there!"

− Wendy Hill
"Being a massage therapist myself its hard to find someone that you are happy with. I am always satisfied when I leave A Perfect Blend feeling great! Thank you!"

− Nicola Rule
Your Health
We understand due to our increasingly demanding and stressful lives massage is becoming a necessity rather than simply a luxury. We assist people to recover from sore backs, wry necks, muscular tension, hamstring and rotator cuff injuries, frozen shoulder, headaches & migraines to name just a few.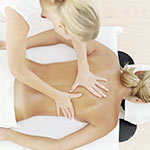 A Perfect Blend recognises there is a major difference between a 'feel-good' massage and a 'therapeutic' massage.
To assist you, whatever the time frame, clients are encouraged to nominate those muscle groups that require particular attention. Our therapists will then assess your body on an individual basis with special attention given to your personal needs so you will leave the clinic feeling the ultimate benefits of the massage session.
Our therapists are fully qualified members of their respective societies therefore enabling them to receipt for all major health funds including Bupa and Medibank Private. Our therapists are Diploma trained and boast over 80 years combined experience in the massage industry.
At A Perfect Blend we are highly skilled in:
as well as
Healthy Skin for Life
We provide a full range of tailored treatment facials specifically designed to target and treat your skin concerns giving you real results.
Our facial treatments help address a wide range of skin conditions like acne rosacea, sun damage, pigmentation, uneven skin tone, wrinkles, puffy eyes, dark circles, age spots, large pores and scarring.
Our team of beauty therapists have many years experience in the beauty industry and are here to assist you with all your facial requirements. Your skin needs to last you a lifetime and we're passionate about making you not only look good, but also feel good – for the long term.
As part of our commitment to encouraging others to live a chemical free lifestyle we use skin care products with 100% naturally derived ingredients and medicinal levels of certified organic plant extracts with our beauty treatments.
We believe everyone can have beautiful gorgeous skin no matter what the complexion.
Thinking you'd like to make someone else's day perfect!
A Perfect Blend gift vouchers make luxurious gifts. Why not treat that special someone to a massage or a facial, perhaps even a manicure?