Containing all the important skin nutrients like Vitamins A, C and E along with essential fatty acids to help boost cell renewal and repair.
In the last decade has seen a growth in popularity with many people using Rosehip Oil to reduce the appearance of age spots, scars, stretch marks and pigmentation.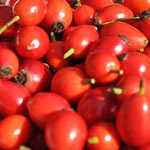 If you want the highest quality Rosehip Oil make sure it's Certified Organic, dark amber in colour and packaged so oxygen and sunlight can't penetrate through and reduce its potency.
For more information about our OrganicSpa Rosehip Oil and it's benefits, please follow the link below.
OrganicSpa Rosehip Oil