Kellie's winter skin recommendations!
Intense Moisture – for dry skin, hydrates deeply & stimulates elastin production
Our Beauty Therapist Kellie says "During winter I recommend ladies with dry, mature skin change to using OrganicSpa's Intense Moisture. Its rich, creamy, concentrated formula contains vitamin A, Hyaluronic Acid and Vitalike which all aid in stimulating collagen and elastin production and delivering much need hydration to the deepest layers of the skin. On the odd occasion Intense Moisture isn't enough for a thirsty complexion I suggest using Organic Spa's Wrinkle Defense under their moisturiser for the extra hydration boost."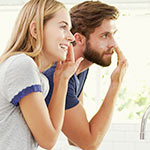 Day Moisture – moisturises & protects
And what about those with oily, combination or normal complexions? Kellie says "Try OrganicSpa's Day Moisture. It moisturises and protects the skin without feeling heavy or thick. It also contains concentrated doses of Vitamin E, Squalane and Rosemary, which assist in combating the early signs of ageing."
If you would like to see more serums or skin care advice, please follow the links to our beauty pages.
Wishing you all the best and look forward to seeing you soon!

Kellie Holt
Beauty, Waxing and Skin Care Therapist
Kellie's focus is on all aspects of beauty. She prides herself on her meticulous hair removal techniques and her ability to provide a beauty experience which her clients rave about. Kellie is a firm believer in knowing the make-up of various skin types to achieve the best results for her clients.
Kellie loves helping others to feel great about the way they look.
See more about Kellie Holt