What causes Teenage Acne?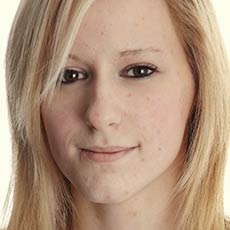 During puberty teenagers produce increased amounts of the male hormones called androgens. It is under the influence of these androgens that the skin produces extra sebum (oil) that makes teenage skin prone to acne or problematic skin.
The role of sebum is to protect the skin keeping it supple, smooth and toned. It is the over production of sebum that leads to acne and problematic skin. Excess oil production also creates the ideal environment for the Bacteria, which lives on the skin, to flourish causing irritation, infection of the skin and clogged pores in turn leading to blind pimples, white heads and black heads.
Blemish free skin is about balancing oil production and providing the nutrients the skin needs to keep it healthy and working properly. So how do we do this?
Controlling your Acne
The first step is to avoid alcohol.
I'm not referring to wine and beer here I'm talking about skin care products that contain alcohol. Alcohol strips the natural oils from the skin drying it out therefore the skin wants to produce (often over producing) more oil to stop the skin from drying out. How do you tell if a product contains alcohol? Look at the ingredient list if there is any ingredient in the list ending with 'ol' this is an alcohol base ingredient. Alcohol is hidden everywhere so check all the products that you use on your skin and hair and if any of them contain alcohol replace them.
Routine.
Creating a basic skin care routine is essential. Any skin care routine is best done morning and night to achieve the optimum results. A basic routine consists of Cleansing, Toning, Exfoliating and Moisturising. Cleanse to remove make up' dirt' grime and excess oil. Tone to hydrate and firm the skin. Exfoliating gently buffs away dead skin cells keeping pores open and unclogged. Moisturise for hydration, repair and rejuvenation.
Keeping skin clean also extends to hair.
The scalp produces its own oil that accumulates on the hair. Combine this with the oil that is in mouses, gels and hair sprays and you've got problems. All this oil rubs off onto your face compounding complexion issues and contributing to your breakouts. Washing your hair every 2 or 3 days will help keep oil production under control.
Change your pillow case regularly.
The oil from your hair and face is absorbed by your pillow case when you sleep. Each night you lay your head down some of this oil is rubbing off back onto your skin.
DO NOT Pick or squeeze your blackheads and pimples.
As tempting as it may be, do not squeeze, scratch, rub or touch your pimples and blackheads. Doing any of these actions, actually increases the sebum production. Plus, when you squeeze' you are actually rupturing the membranes below your skin' causing infection and sebum to spread underneath your skin. The result is more pimples.
Be wary about Antibiotics for Acne
The antibiotics prescribed for acne are designed to kill off the bacteria that live on the skin. The bacteria is not the cause of acne in itself, it is the bacteria flourishing in the oily conditions that causes acne. It is possible that antibiotics may slow down acne but acne often returns when the antibiotics run out.
Consider a Treatment Facial
Facials are not just for pampering. A Treatment Facial is exactly that a treatment for the skin. Treatment Facials are tailor made to combat each persons specific complexion issue and deliver results. The arsenal of clays' gels' peels' masques' serums and creams that a Beauty Therapist has access to are much stronger than what is available in supermarkets and pharmacies and thus help address the underlying cause of acne.
Visiting our highly trained Beauty Therapists will get you on the right track for what your particular skin type requires.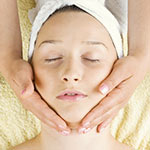 On your first visit our Beauty Therapist will complete a comprehensive skin diagnosis which will outline what type of skin you have (dry, oily, combination)' how it is functioning and why you are experiencing problematic skin.
We will also make recommendations on what you can do to improve and correct your skin condition by yourself in future.
For more information or to view our treatment menu please follow the link.