A good waxing result is often down to the technique and experience of your therapist.
However the type of waxes used do make a great deal of difference, both during and post treatment.
It really does pay to know what type of wax your therapist is using. With waxing, different types of waxes should be used for different areas.
Some therapists may use of a single type of wax all over for a quicker treatment, however this can cause unnecessary pain and leave you with a less than satisfactory result overall.
It is also important to note, regardless of type, a good quality wax should contain additional ingredients to reduce discomfort and benefit your skin post your waxing treatment.
What is the difference between two main types, strip wax and hot wax?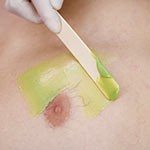 One way to remember the difference is to think that strip wax sticks to your skin so it's better for fine hairs, whereas hot wax holds onto the hairs rather than the skin, making it ideal for delicate areas like the underarms and bikini line. Plus because hot wax just clings to the hairs it doesn't necessarily hurt as much as strip wax.
HARD (HOT) WAXES
Are ideal for sensitive and delicate areas, such as:
Facial waxing
bikini line
underarm; and
Brazilians
Hot wax is spread thickly onto the skin and allowed to dry slightly before it is gently peeled away. This method is far less painful than most and pulls hair directly from the roots. The benefits include fewer in-grown hairs and less breakage.
Our treatments use a natural, flexible wax, which delivers outstanding results whilst still being gentle on your skin. This wax has a creamy consistency with Titanium Dioxide to reduce redness and irritation, making it especially superior for Brazilian waxing. Nourishing Almond oil and other essential vitamins also restore skin suppleness and elasticity.
STRIP WAXES
Will always give exceptional results when removing stubborn and coarse hair such as:
Legs
Arms
Back, Chest and Shoulder
Strip wax is recommended for thicker/less sensitive skin. A thin layer of wax is applied to the skin and is then removed using a disposable strip.
We use a high performance strip wax based on Pure Olive Oil. This natural formula with soothing olive oil instantly nourishes and softens the skin for a restoring wax treatment. It glides on quickly, easily and doesn't leave any sticky residue on your skin.
Who is suitable for waxing treatments?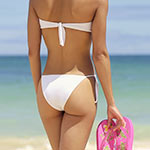 Everyone is suitable for both hot wax and strip wax unless they have a specific allergy. However, if you have a skin condition like eczema or psoriasis, getting waxed is not always going to be a good idea. Likewise if you have bad acne or are taking medication that thins the skin it may be worth checking with your GP first.
What should you do after your wax?
If you want to have the best waxing results post treatment, avoid anything that is going to bring you out in a sweat. After waxing your pores are very open and are more vulnerable to getting blocked.
Avoid exercise, sunbathing, really hot showers and saunas for at least 24 hours after your waxing treatment.
Wondering about pregnancy waxing?
Waxing during pregnancy has become very popular and our therapists are trained to ensure that all parts of the body are waxed comfortably and safely. The Brazilian or Hollywood wax is a very popular treatment one week before the due date.
Hygiene & Cleanliness
Lastly, you can rest assured that hygiene is a top priority with us. We employ only the best 'Micro Defence' ranges to protect both you and us against a wide range of bacteria, fungi, yeast infections and viruses. We never double dip our wax spatulas, our beds are cleaned after every client and disposable g-strings are provided for your comfort.
At A Perfect Blend we pride ourselves by having the very best quality waxes combined with highly skilled therapists. Our treatments are sure to leave you with minimal discomfort and a better lasting result!!!
For more information and pricing visit our waxes services page or contact us on 07 5438 0688 to consult with our experienced skin care therapists about your needs.