Waxing at home has such appeal, doesn't it?
Unfortunately convenience store brands are not high quality waxes. They may contain natural substances, but check the labels carefully. Many also contain parabens and artificial fragrances, which have been linked to cancer. And, if you have sensitive skin, these substances can really aggravate it.
One of the greatest benefits of in-salon waxing is its combined strength and gentleness.
Salon waxes are high quality, and much easier to work with. They contain strong natural waxes with antiseptic ingredients like tea tree oil that protect against infection.
Non-salon waxes are also easy to work with, but due to the quality, their effectiveness is limited. It may take several applications (ouch!) to remove hair, which of course, means more irritation.
Professional waxes are less irritating by griping the hair more effectively.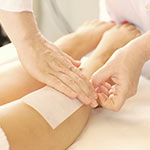 But there's an even bigger reason why salon waxing is more successful than convenience store waxing – training!
It may seem like waxing would be easy enough to do on your own, but there really is an art to it!
That's why training is just the start of a waxing education. Waxing is all about technique and experience. The more you wax the better your technique gets. Our technicians have considerable experience.
There is no "learning on the job," which is what your money buys when you do it at home. Not too mention the mess! Waxing schools teach students how to properly handle wax with minimum fuss.
At home, you'll spend more money to correct your mistakes! Is it really worth it?
For more information explaining the various waxes and treatments follow the link.
Do we offer the cheapest waxing on the Sunshine Coast?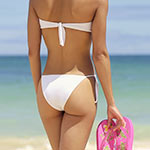 No.
Nor is it the most expensive on the coast either.
Have you ever tried to look for the cheapest hair cut on the Sunny Coast? That never ends well. We offer only premium grade wax treatments, high hygienic standards, experienced therapists, who treat all our clients with the highest respect and privacy.
If you are ready to feel soft, silky and smooth, visit our waxing price list page and call us to secure your appointment.
Look forward to seeing you soon!