There is a common myth that a pregnant woman cannot have reflexology treatments during the first trimester because it could cause a miscarriage.
Most reflexologists do not perform reflexology during the first 90 days of pregnancy because of this misplaced fear.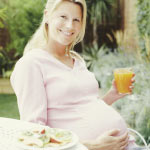 But nothing could be further from the truth! 
A miscarriage is a reaction to the body, NOT a reaction to reflexology.
Then there is the question at the other end of the spectrum, "Can reflexology cause a woman to go into labor?"
The purpose of reflexology is to bring your body into balance. That means if the baby isn't ready to be born, the child will stay put!
In the meantime, if your back is hurting, you're suffering from morning sickness, fluid retention, and swelling, reflexology is an excellent treatment to help balance bodily systems, alleviating pain and discomfort.
Babyworld moderator and complementary therapist, Lynne Morgan says, "During labor itself, it can be used for relaxation and pain relief, and"
"research has shown that women who have regular reflexology treatments during pregnancy have shorter labours than those who don't."
Reflexology is also recommended following birth. It's particularly helpful with postnatal depression, maintaining or increasing milk supply, and general relaxation.
Pregnancy is a special time in your life. Enjoy it, while making the journey more comfortable with evidence-based reflexology!