Alpha Hydroxy Acid
For starters what is Alpha Hydroxy Acid?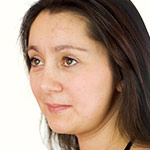 Just in case you're interested, let's get the technical stuff out of the way first. AHA works not only on the surface of the skin, but also in the layers we cannot see. A natural derivative of sugar cane, AHA has amazing exfoliating properties and is used extensively in skin care products. Popular sources of AHA include the citric acid of lemon, orange and grapefruit extracts.
But before I get ahead of myself, how does it work?
AHA does many different things, all of which can be beneficial to the skin. It's acid is a rapid exfoliant. On the surface of the skin, it dissolves the fatty molecules that keep the dead, dry skin cells on the surface of the skin. When it dissolves these molecules, the dead skin cells are washed away, leaving only the new, radiant skin behind. Your skin will feel smooth and soft, and because the dead skin cells have been removed, your other products, like moisturisers, will better penetrate the skin, making them more effective.
And guess what? Used over time, AHA will start working beneath the skin's surface to produce more advanced results. It can lighten pigmentation caused by sun damage and it will stimulate collagen production. Loss of collagen and sun damage are both signs of ageing skin. Increasing the collagen production makes skin more supple, and fine lines and wrinkles less visible. Lightening the sun spots and other skin discolouration makes the skin appear more youthful as well.
AHA is also excellent for acne-prone skin.
Just as the AHA dissolves the dead skin cells, it also works to destroy the bacterium that causes whiteheads and other acne. People who experience acne (even on the body or back) may find that AHA Facials by a skin care professional, along with regular home maintenance, can control their acne for the long term.
I've used AHA for years and my skin has never felt or looked better. And our clients who have already experienced our new Advanced Micro Renewal Facial can't believe how good their skin looks and feels.
Not sure if this is the best approach for you skin, please contact us for your free no obligation 10 minute consultation with our Beauty Therapist, Dianna Elliott (with over 30 years industry experience) to discuss your skin concerns.
For more about our Advanced Micro Renewal Facial click here.