Recipes, ideas and essential oil advice for your home!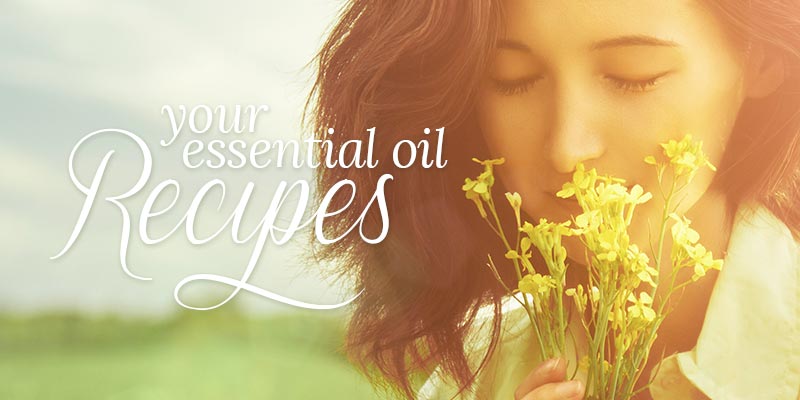 Essential Oils are plant extracts that are generally distilled (most frequently by steam or water) from the leaves, stems, flowers, bark, roots, or other elements of the plant. At A Perfect Blend we are proud to stock the following natural aromatherapy ranges.

See below for some favourite essential oil Perfume, Massage, Vapouriser and Bath recipies.
About Essential Oils
Essential oils, contrary to the use of the word "oil" are not really oily-feeling at all. Many Essential oils are colourless however some may be pale yellow to amber in colour such as Lemongrass and Patchouli. Aromatherapy products that include synthetic ingredients are frowned upon in holistic aromatherapy. Be sure when seeking true aromatherapy products to look at the ingredient label and ensure that the product does not contain perfume oils (also known as fragrance oils) or chemical components.
Fragrance oils are not the same as essential oils!
Fragrance oils and perfume oils contain synthetic chemicals and do not provide the same therapeutic benefits of essential oils.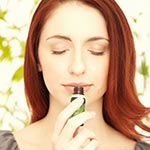 Using Essential Oils
Remember Essential Oils are highly concentrated and a little goes a long way. Essential oils can provide valuable psychological and physical therapeutic benefits achieved through the follow methods:
NOTE: Do not attempt to apply pure essential oils directly to the skin and do not take essential oils internally.

ABSORPTION
Adding Essential Oils to carriers such as Vitamin E Cream, Sweet Almond Oil or Jojoba Oil is a great way to help them penetrate the skin.
This method is great for treating skin conditions like:
Or respiratory conditions such as:
bronchitis
sinusitis; or the
common cold.
Even muscular rubs can be made to help relieve tension and soreness.

MASSAGE
Massaging with essential oils is both physically and emotionally beneficial to the body. Note: Never massage with undiluted essential oils!
Blend 5 drops of essential oil to every 10ml of carrier oils (such as sweet almond and apricot kernel).
Also try some of the following combinations for health and harmony:
Anti-stress
15 drops Clary Sage
10 drops Lemon
5 drops Lavender
Sore muscles
3 drops Ginger
2 drops Black Pepper
5 drops Peppermint
5 drops Eucalyptus

VAPOURISATION
Change the mood of your home, bedroom or office by adding essential oils to a vapouriser. There are two main types of vapourisers available candle (oil burner) and electric. Both work great but electric vaporisers require no water so are a bit safer especially if kids are around.
No matter which one you choose add approximately 5 to 10 drops of essential oil. How much you use depends on the essential oil you're burning.
Try the following to create the perfect ambience you want:
Assist Sleep
Calm in the Office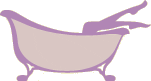 BATH
Bathing with essential oils is one of the easiest ways to implement aromatherapy and its benefits. The relaxing properties of hot water compliments the effects of essential oils for the relief of stress and anxiety and can assist with muscle pains.
To disperse an essential oil effectively throughout the water use a teaspoon of vegetable glycerin (available at your local supermarket) or full cream milk to every 5-7 drops of essential oil.
Best added just before you turn off the taps to ensure the maximum therapeutic effect. Be sure to check if an essential oil is skin sensitive and to mix well within the water before submersing.
Essential Oil Absorption Recipes
Controlling Acne
50ml Apricot Kernel carrier oil
12 drops Lavender oil
7 drops Tea Tree oil
1 drops Geranium oil
Facial Blend
2 tablespoons Avocado oil
1 tablespoon Jojoba oil
1 tablespoon Rosehip oil
3 drops Jasmine oil
2 drops Sandalwood oil
3 drops Ylang Ylang oil
Essential Oil Perfume Recipes
To make you own personal perfume:
Add 1 teaspoon carrier oil (jojoba, almond or apricot kernel oil); and
1 teaspoon alcohol (Vodka)
then add your Essential Oils
Shake well for the first couple of days and store in a cool dark place. ENJOY!
Confidence Blend
2 drops Ginger oil
3 drops Myrtle oil
4 drops Rosemary oil
3 drops Verbena oil
Exotic Blend
15 drops Sandalwood oil
3 drops of either Rose, Jasmine or Neroli oil
Inspirational Blend
3 drops Bergamot oil
1 drop Jasmine oil
4 drops Lemongrass oil
1 drop Neroli
Tranquil Blend
4 drops Cedarwood oil
2 drops Clary Sage oil
2 drops Mandarin oil
1 drop Grapefruit oil
Essential Oil Massage Recipes
Blend 5 drops of essential oil to every 10ml of carrier oils (such as sweet almond and apricot kernel). ENJOY!
Relaxation Blend
10 drops Roman Chamomile
5 drops Lavender oil
Luxuriant Blend
6 drops Sandalwood oil
2 drops Lavender oil
2 drops Rosewood oil
2 drops Rose oil
Fatigue Blend
6 drops Grapefruit oil
5 drops Palmarosa oil
4 drops Thyme oil
Spice of Life Blend
6 drops Ginger oil
4 drops Jasmine oil
2 drops Orange oil
Essential Oil Vapouriser & Oil Burner Recipes
A Boost of Confidence
3 drops Orange oil
3 drops Lemongrass oil
An Air of Romance
2 drops Jasmine oil
2 drops Clary Sage oil
2 drops Ylang Ylang oil
Improved Concentration
4 drops Cypress oil
1 drop Peppermint oil
Time for Relaxation
2 drops Roman Chamomile
1 drop Lavender oil
Soothing Blends
To assist stress related Anxiety, Headaches and Tension
3 drops Lavender
2 drops Clary Sage oil
or try
3 drops Patchouli oil
3 drops Vetiver oil
Happiness Blends
Try citrus oils to enhance happyness in your environment!
3 drops Bergamot oil
1 drop Ylang Ylang oil
1 drop Grapefruit oil
or try
2 drops Lemon, Orange or Bergamot oils
2 drops Grapefruit oil
1 drop Ylang Ylang, Rose or Neroli oils
Essential Oil Bath Recipes
Use a teaspoon of vegetable glycerin (available at your local supermarket) or full cream milk to every 5-7 drops of essential oil. Also try the vapouriser recipes above, they work just as well in the bath!
Morning Energise
3 drops Bergamot oil
2 drops Rosemary oil
Evening Stress Relief
3 drops Bergamot oil
1 drop Frankincense oil
1 drop Geranium oil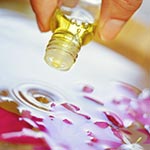 Want to know about our Aromatherapy products?
Visit our product page for a guide to the essential oil ranges we have in stock and their uses.