Remedial Massage for back tension and pain relief
Tight, weak or tired back muscles are vulnerable to injury anytime you overdo it, for example in the yard or at the gym. Sometimes it doesn't take much. A sudden jerk or mild twist can cause lingering pain.
Remedial Massage is well known for kneading away tension and relieving pain in muscles that are injured or in spasm. It also relieves discomfort in surrounding areas that may be tightening up or 'guarding' in response to pain.
Massage improves circulation, increasing flow of oxygen and nutrients to tissues.
This helps reduce swelling and accumulated toxins that can cause irritation. When swelling and irritation are reduced, injured muscles and ligaments can heal faster with less discomfort.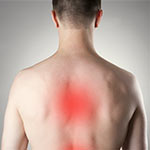 Sudden trauma or chronically shortened muscles and fascia can pull joints out of alignment. By stretching, lengthening and releasing shortened muscles, massage can help the body return to normal alignment. Seeing a Chiropractor, Osteopath or Physiotherapist may also be necessary to help correct body alignment.
The work of Massage Therapists and other health professionals can be mutually supportive in bringing about pain relief and easier movement. Back pain is not something anyone has to put up with.
There is help available.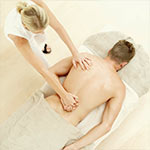 Getting a massage can do you a world of good. And getting massage frequently can do even more. Tip the scales in your favor …and keep it that way! Include massage as part of your work schedule.
For more information on the benefits of Remedial Massage Therapies follow the links.